"Back Bulge" or "Bra Bulge" is a common problem that girls tend to face. The name of curves makes you think that it would definitely look sexy, however, here we are talking about the bulge under the arms, shoulder, or alongside the back. It feels extremely annoying and uncomfortable for women. And on top of it, wearing a bra that feels uncomfortable throughout the day makes the matter worse. Therefore, if you have extra fat on your back or sides then you need special bras to be comfortable throughout the day. So what is the solution to bra bulge or side spillage? So we'd suggest you shop best bras for side spillage or bra bulge to get rid of this problem quickly. These bras are designed to have special characteristics such as wider side panels, padded underwires, and shoulder support. Therefore, we will suggest you try bras for side spillage in case you are facing a bra bulge problem.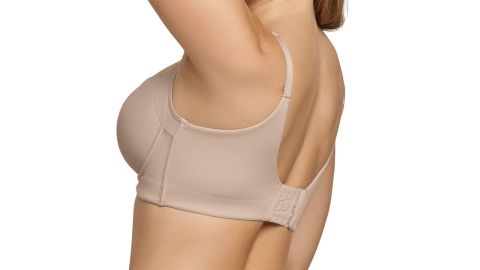 So before proceeding ahead, let's find out what causes the bra bulge issue?
What causes the Bra Bulge Issue?
The bra bulge problem is caused due to extra fat on your shoulders, back, or under the arms. This problem is directly related to your weight gain. To get a flatter back or shoulders, you need to focus on dieting and exercising. However, it requires a lot of hard work and time. Thus, if you are looking for a quick solution to back fat or side spillage problem so here we are sharing with you a few bras that would effectively help you hide side spillage.
How to Know You're Wearing the Wrong Bra?
If you are facing side spillage or most of the bra problems. So it could lead to only one answer that you are choosing the wrong bra for yourself. Now the question arises how do you know that you are choosing the wrong bra? Here we have discussed a few points that would shed light on this issue.
Check the Band Fit: While choosing a bra for yourself, keep this point in your mind. The elastic band of the bra should fit smoothly against your rids or if it is happened to be too tight then it will slide to the sides and irritate your skin. When it happens it highlights the back fat. Moreover, if the band is too loose then it will slide up and makes you uncomfortable.
Check the Cup Size: The size of your bra cup is also an important factor to keep in mind while choosing a bra for yourself. If the cup size cuts your nipples then it means that the cup is small for your busts. On the contrary, if the gap is great then gapping between busts increases it mostly happens with plunge bras which helps in bringing busts together.
Check How Straps Fit: While purchasing a bra you should only choose a bra that sits comfortably on your shoulders not dig or fall to the side exposing the back fat. The main job of your bra is to support your boobs not straps. This is most women fail to understand and choose the wrong bra.
Top 5 Bras to Hide Side Spillage or Back Fat
If you are looking for a bra to hide back perfectly, then you should trust this bra. This bra is made of nylon and spandex material that gives you comfort all day. This bra is designed in a way to effortlessly hide the back fat. It has a wide flat and a three-row, three-column hook and eye closure around the back that helps get rid of any back fat from showing through. It has an excellent cushion that offers support to your shoulder. It is helpful in preventing clasp at high volume.
Pros:
Very Comfortable
Provides utmost good support
Best bra for side spillage
Reasonable
Cons:
Regular Washing can damage the fabric
If you are looking for comfortable, excellent support in a bra to hide back fat, then you should choose this bra. This bra is made of nylon and spandex material that offers you excellent comfort. The Hidden, encased underwires help provide a more comfortable fit. You can wear this bra throughout the day as the soft material of this bra will make you comfortable. The Side flex panels offer additional stretch for easy on, easy off.
Pros:
Minimize a Full breast
Deep V Neckline
Encased Underwire
Cons:
This bra is not suitable for small bust
If you have large busts then this bra is suitable for you as it effectively covers your bra and it has good length straps to cross from one arm to another. It has double-layered elastic within straps that are customizable and sides are extra to cover any extra skin if it is popping out. It has wider cup sizes and bandwidth that gives a clean finish to double boobs. It has good cups that can give comfort to your bust.
Pros:
Lace Underwire Bra
Affordable
Hook and Eye Closure
Mini Floral Design
Cons:
Not recommended to people with a smaller torso
This bra proves an excellent choice to hide back fat or side spillage. It has a large strap that centers to gore to the back and offers complete coverage to your breast. The vertical hooks give a decent space for the wide side to make all this possible. The underwire bra gives your ultimate support & comfort. It has great straps that give your flexibility to adjust in case you need some air around your chest area.
The sizes available are from 32 till 44 going from DD to H cup sizes.
Pros:
Full coverage unlined underwire bra
Affordable
Cups with hidden inner sling for added support
Cons:
Not suitable for low cut dresses
This bra can be the top choice for women who are suffering from excessive fat and if you are looking for a bra to perfectly hide the back fat then you should choose this bra as it is made of 100% cotton. This bra has decent cups that are molded with soft foam for a clean flat outlook. The side straps in this bra can easily cover doubled skin and fit within it. The available sizes range from 32 to 38 with cup sizes from C through DD.
Pros:
It is Elastic Free & comfortable
Great for low cut tops
Cons: