Shopping for Bra is a tiresome job. You can ask any woman and she will tell you that how much thinking goes while selecting a perfect bra for themselves. This job becomes more difficult when a Plus Size woman looks for a perfect bra for themselves which is stylish & comfortable. Thankfully, choosing Bra for a Plus Size woman has become convenient nowadays as several lingerie brands have started focusing on designing stylish & comfortable bras for the plus-size woman. So if you are looking for the Best Bra for large breasts then we have curated the top 6 Bras for Plus size that you will surely want to wear.
How to Choose The Best Bra for Plus Size Women?

Before proceeding any further, let's check out a few tips that will help you choose the best Bra for Plus Size Woman.
While choosing bra try to choose a bra with a wider strap for better comfort.
Choose a bra that provides full coverage breasts
We will advise you to choose the brasseries with three hooks instead of two.
Most of the Plus size bra in the market come with Non-Padded which is a bit uncomfortable, so we will suggest you choose a lighter and padded bra for more comfort.
Choose underwired plus size bra as it is recommended for plus size figure. The reason is that it could provide support to your sagging bust under any condition by lifting them.
Playtex Women's 18 Hour Ultimate Lift and Support Wire-Free Bra: This bra is one of the best bras's that you could buy for your big busts. This bra has received a plethora of positive reviews on Amazon. The overall rating of this product is 4.1 and the best part is the 3700 plus women have trusted this product. It provides a 4-way support system: extra side and extra back support, fuller cups to reduce spillage, and designed with a Comfort strap for all-day comfort. This bra comes in various size that starts from 36B and goes up to 40DD. So it will be the best pick up for big busts women. You can purchase this item from Amazon.
Reviews: One of the users has given a five star to this Bra that sums up the quality of this product. Here is an excerpt from what she says " Recently I've began needing to wear all cotton bras to assist with sweating. Sports bras are too constricting for everyday use so after some serious searching around many websites– I found this bra. Playtex is already well known for its support so honestly if you already own any type of Playtex bra then you already know this one is also superb just in cotton material. I'm definitely searching for one in every color 🙂
Price: $14.90 – $48.00
Clovia Padded Non-Wired Full Cup Heart Print T-shirt Bra in White – Cotton: This bra is perfect for plus size woman as this bra is crafted with soft polyamide fabric and Powernet back band, that will give you a comfortable experience. It has padded cups that gives you modesty. The best thing about this bra is that it is non-wired that gives you poke free experience. Also this bra is affordable. You can buy this amazing looking bra in just Rs.839. This bra is available in 32B to 44B sizes. Moreover, this bra has received only 5 stars reviews that speaks for its quality.
Non-Padded Underwired Plus Size Bra: This is another bra that you can buy if you are looking for a perfect bra for big busts. This bra comes with under-wired cups that avoid sagging your breasts and give it gentle support. Also, this attractive bra comes with an exquisite lace neckline that can be easily paired with low neckline dresses. The double-layered cups make you unworried about side & top bugles. This bra is perfect for everyday use with unmatchable comfort & support. It is available in all sizes so you should not worry about the sizes.
Price: Rs.944
Sztori Plus Size Cotton Bra: Cotton bra is one of the most popular bras that is demanded by plus-size women as it provides their ultimate support and comfort. It is an ideal pick for day-to-day usages. This nonpadded and non-wired bra is best for all plus-size women. This bra is available in different sizes and you will find your size. You can buy it in 900 rs.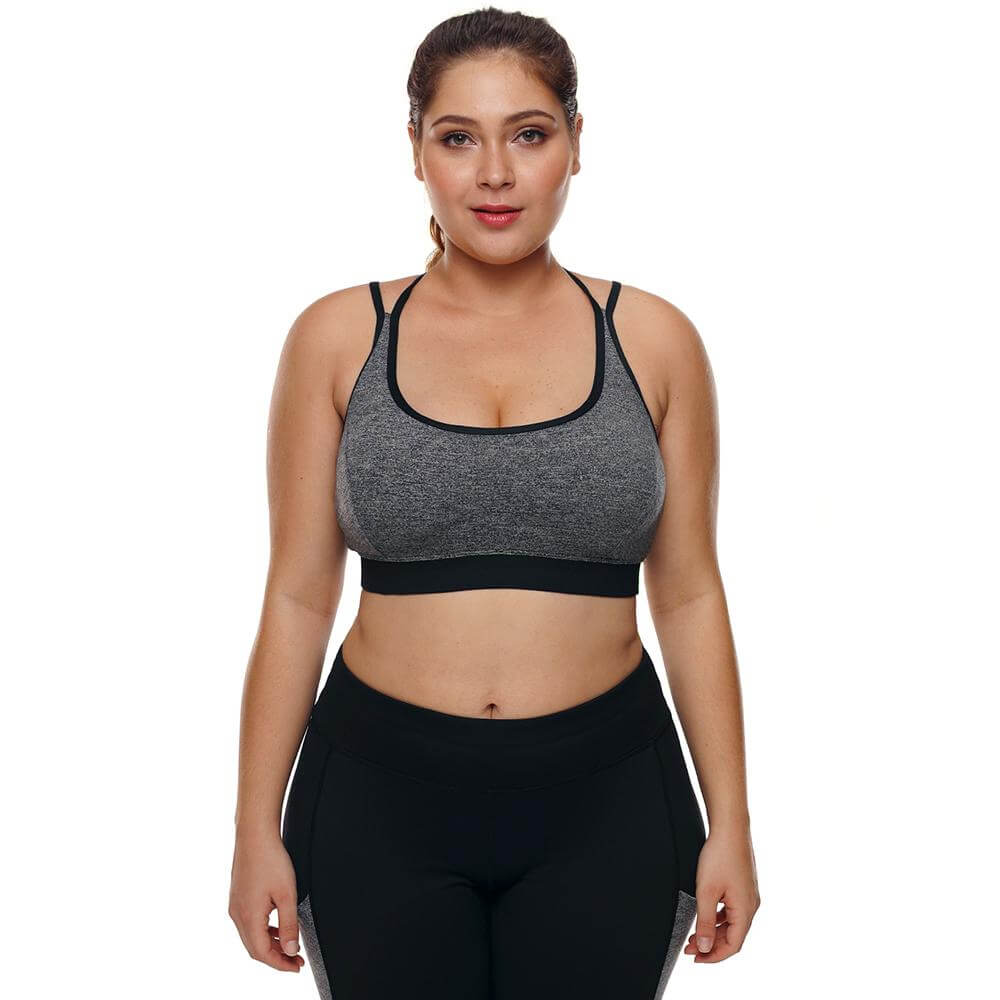 Sports Bra for Plus Size Woman: Sports bra's are fondly worn by the plus-size woman as it provides them utmost comfort and support. It is one of the most sought options among plus-sized women. These plus-sized bras are not only worn during sports but it can be used regularly every day. This bra has received a lot of positive reviews on Amazon and available in all sizes, so without wasting any further time, you can order it today.
Padded Bra in Plus Size: The plus size padded bra provides immense comfort and style to women. So if you are looking for a bra to wear at parties and on special occasions, then you should opt for this amazingly designed Padded Bra. You can easily carry it with a Deepneck outfit and dress. This bra is available in different sizes and shapes so you can buy it now.
So these are a few best bra's for plus size woman that will offer them immense support and comfort. These bra's can be used ias a regular wear and at special occasions. So throw away all your worries for being plus size. You have a plethora of options to choose from. So why wasting anytime start shopping now.