Every Girl has a lot of dreams about D- Day. They want to appear the best on their wedding day. It is immensely hard to believe if a girl denies that she has not dreamt about her wedding and what she would be going to wear on her wedding day. Every bride wants to look best from tip to toe on this special day. Thus, they want everything to be perfect be it jewelry, their attire, hairs.
Although, all the above mentioned bridal accessories have a special place in a to be brides heart. But the affection of Indians bride toward Lehengas is unmatched. Every bride wants to wear the best lehenga on their wedding. However, gone are the days when girls were happy to don Red, Orange these traditional colors on their wedding day. Now they want to experiments with different colors lehnga to appear best. But we have seen girls getting confused about which color Lehnga should choose for their wedding. So if you are soon to be a bride and looking for the best lehnga's color for your wedding, then keep reading this post.
11 Lehenga Colors For The Modern 2020-21 Brides
Curious Custard Colored Bridal Lehenga: If you are planning to wear subtle yet appealing lehenga then you should opt for Curious Custard color lehenga. You can even pair Curious custard Colored Lehenga with bright color blouse or jewelry to balance your look.
Baby Pink + Pale Peach Color Lehenga: This is also a great color that you can choose for your wedding lehenga. It has been picked a lot by new-age brides because it is subtle and gives them a royal appearance on the big day. This color lehenga works best if you are getting in the daytime. So if you are soon to be a bride then you can try this Lehenga as well.
Blood red with Mint green Colored Lehenga: If you are looking for a trendy yet traditional lehenga to don on your wedding day then you should choose lehenga which perfectly balances between traditional & into trends. Both colors red and mint green have their own grace where red gives your lehenga a traditional look & mint greens keep it trendy. So you can try this color for your wedding.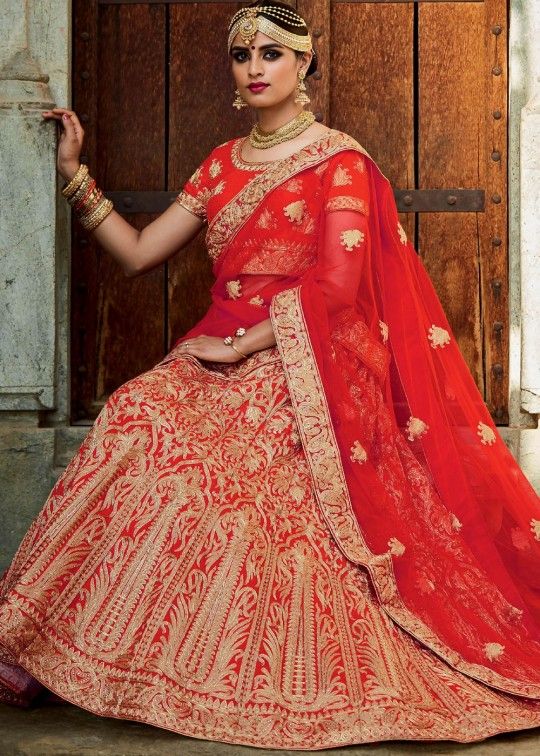 Lilac/ Ultraviolet Colored Lehenga: This colored lehenga has been in the trend so if you have decided to not wear the traditional colored lehenga at your wedding so you can go for this Lehenga. This color lehenga has been appreciated by a lot of brides and the color is unconventional and it'd give you a refreshing look, so we'd suggest you to wear this colored lehenga on your wedding.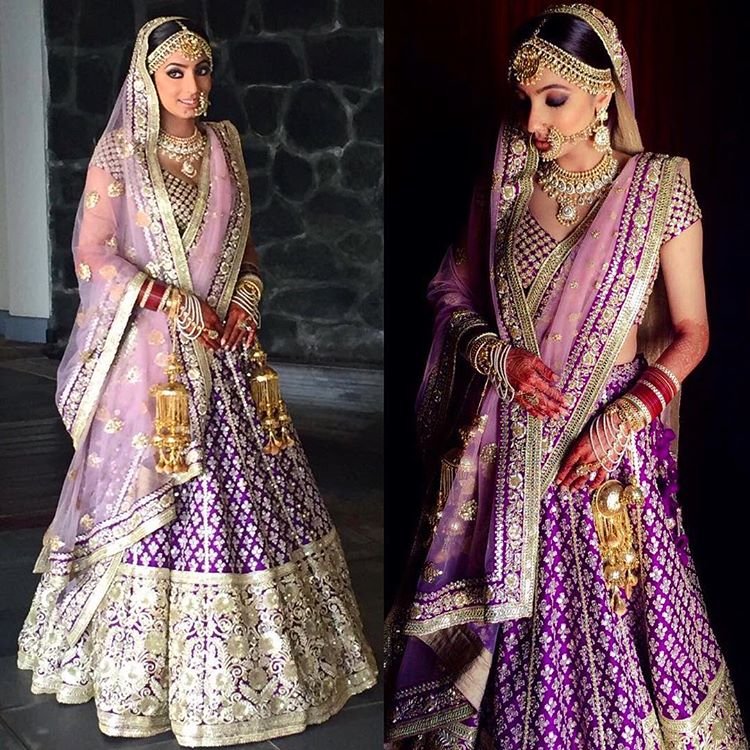 Turquoise + Blush Pink: Every bride yearns to appear royal on their wedding day so nobody can take their eyes off from the bride so you can try Turquoise + Blush Pink colored lehenga on your wedding. This color looks so refreshing & vibrant that everybody will be only clicking your selfies and talking about your lehenga.
Green+ Pink+ Mango Colored Lehenga: If you love wearing bright colors so why are you shying away to wear on the most important day of your life we'll suggest you wear what you like the most. The combination of these colors will add charm to your wedding look. You should go ahead with this color to steal the hearts and rock on your wedding day.
Red + Burnt Orange Colored Lehenga: This color combination has become hot among the brides. A large number of soon to be brides are donning this color. So if you are one of those who want to set a trend instead of following them then we would suggest you wear this lehenga at your wedding.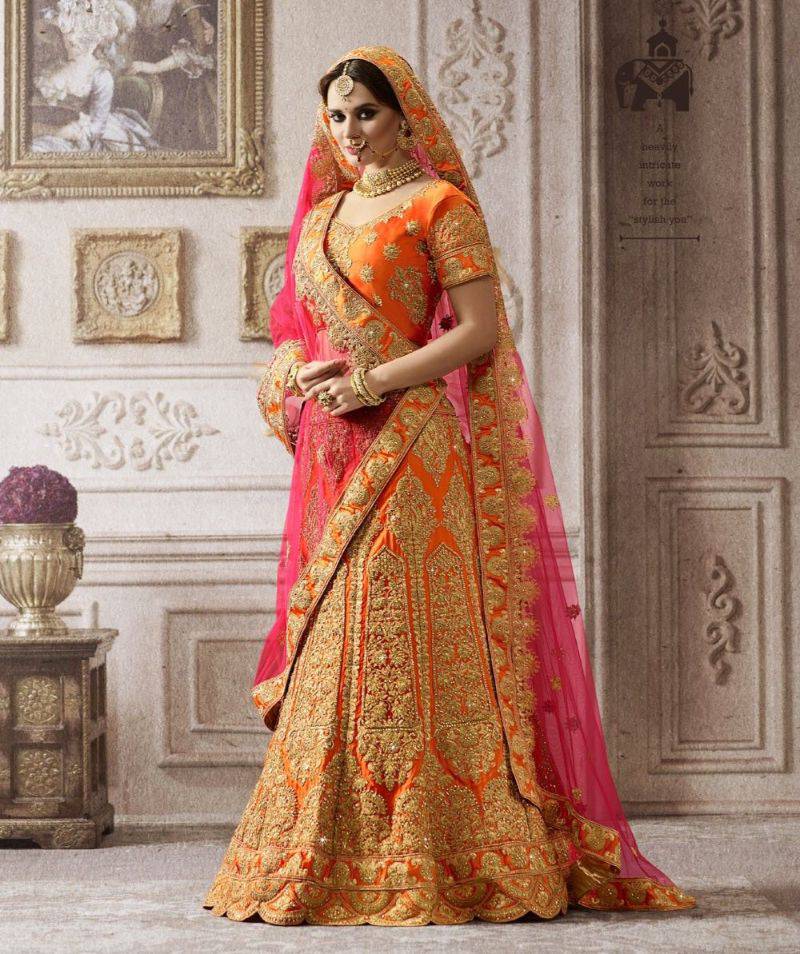 Red and Green Colored Lehenga: Red and Green colors are made for each other and look best if they are used in your lehenga. So if you are not into experimenting much with your bridal lehenga and want to stick to the traditional colors yet want to look trendy then this color combination is best for you.
Indigo + Ice Blue: This lehenga has stolen our hearts. These colors have beautiful grace and look aesthetically beautiful paired together. If you wish to look like a million-dollar on your wedding day then go ahead with this lehenga.
Peach + Sage Green Colored Lehenga: If you are looking for a magical combination of colored lehenga for your wedding which is eye-pleasing and compel your better half to hold your breath then buy this lehenga.
Golden Honey + Red: This color combination so out of the box yet magical that we'd suggest you to shortlist for your wedding to become center of attraction on your marriage.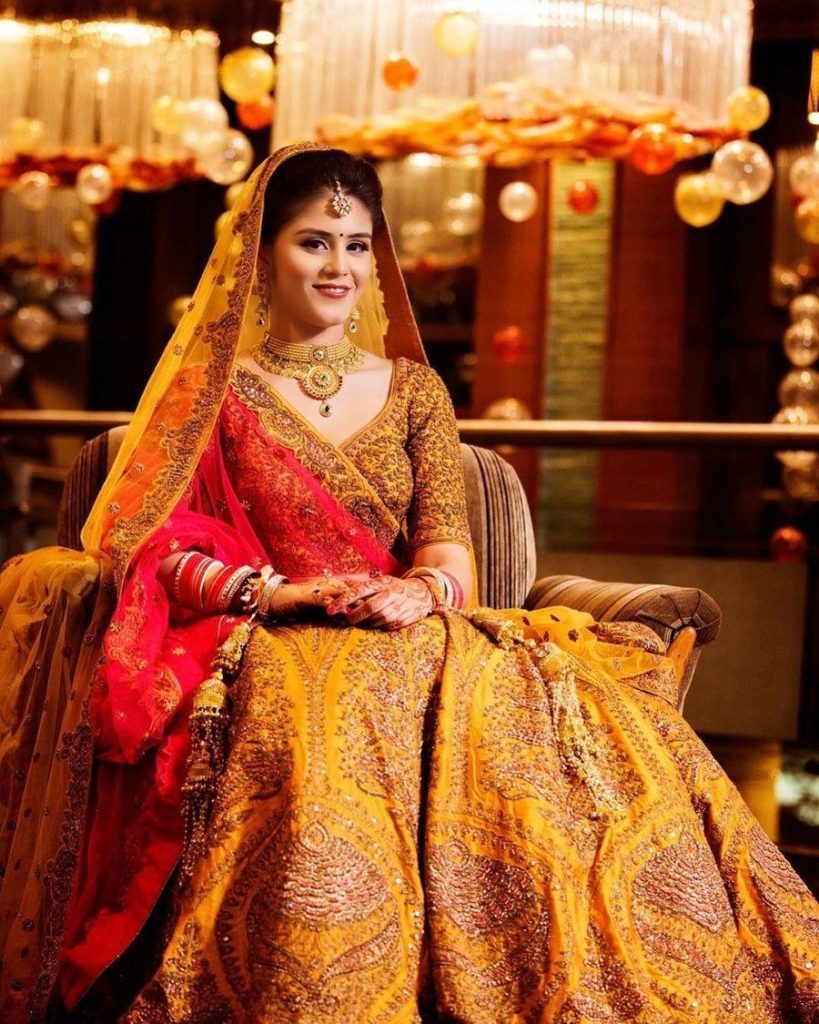 So these are a few of the trending colors for bridal lehenga in 2020! So if you like any of the above colors then you can go ahead and buy it. However, it is your wedding and its your choice what color lehenga you want to wear for your wedding.