Are you engaged and waiting for the D-day? You are leaving no stone unturned for an unforgettable wedding experience. You have purchased the best bridal dress, jewelry, and makeup accessories to appear best on your wedding day. However, all your planning will go in vain, if you don't plan your hairstyle for your wedding. The hairstyle will amp up the elegance of your entire bridal appearance. Thus, it is immensely important to plan your hairstyle much before the big day. And if you have a round face then it becomes extremely difficult to look for the perfect hairstyle for the wedding.
Open Hair With Light Curls: If you have a round face and looking for the best bridal hairstyle for yourself then we'd recommend you go ahead with open hairs with light curls. The benefits of open hair with light curls is that it steals attention away from your face and make you look stunning during your wedding. So this is the best hairstyle for chubby faces. So if you are getting married soon and worried about hairstyle that would suit your chubby face, then try it.
Side Bangs: A lot of celebrities with round faces are trying this hairstyle to cover up their round face and look attractive. So you can also try side bangs in your wedding because Side bangs hairstyle gives you an angle that hides the chubbiness of your face. So we will suggest you try Side bangs in your wedding.
Loose Ringlets Tied Up: This is simple yet effective hairdo's for a round face bride to look stunning during their marriage. So if you have a round face then you can try this hairstyle. The best thing about this hairstyle is that it is immensely simple yet looks quite effective. It is very easy to prepare your hairs, you just need to pull all your hairs back & tie-up leaving only a few curves on the sides.
Floral Bun: Floral bun is also a great hairstyle for a bride with a round face. It is a lighter take on a bun with roses while making this hairstyle don't make a tight bun instead of going with a light bun as you need hairs on sides & top of your head. This hairstyle does not look effective with western dresses so if you are planning to wear an ethnic dress at your wedding then go for this hairstyle.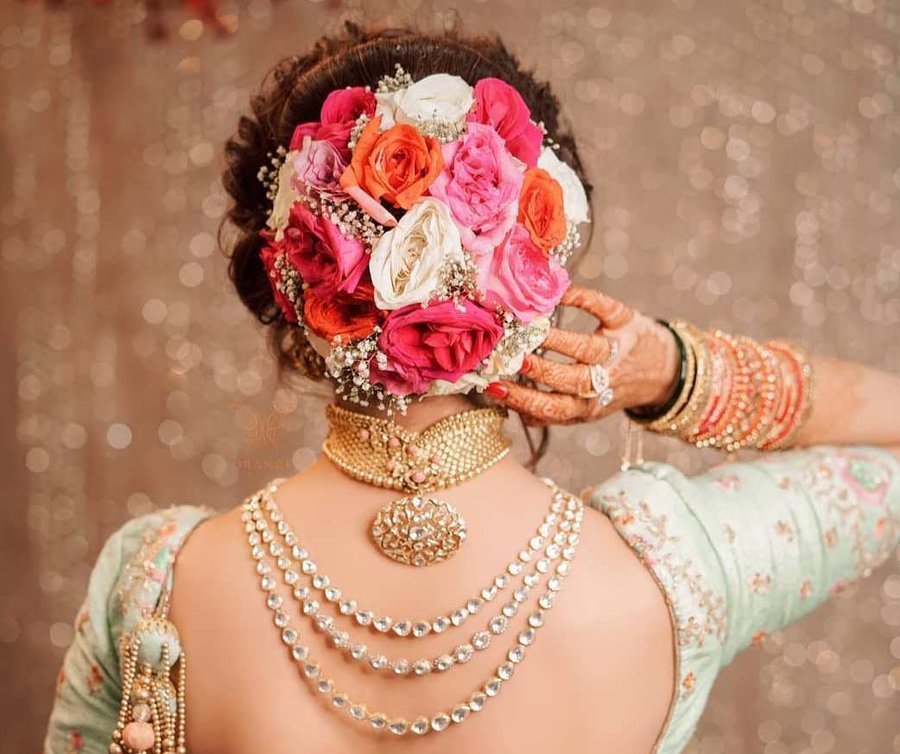 Thick Curls: Thick curls are popular among the girls with round faces. It is a great option for those brides who are worried about the hairstyle due to the round face. So if you have a chubby face and looking for the best hairstyle for the chubby face then you can try thick curls as they look great especially for chubby face. To do this hairstyle you can wash your hair and then start wrapping your hair around the wand and press clamp for a few seconds and then release it. You should repeat this process for a few minutes and you will achieve this hairstyle.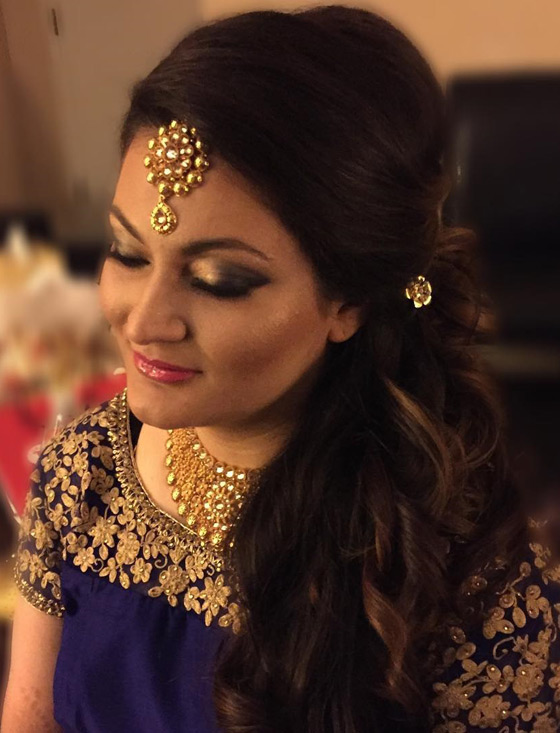 So these are some of the best hair styles for a round face chubby soon to be bride. You can try it in your wedding.